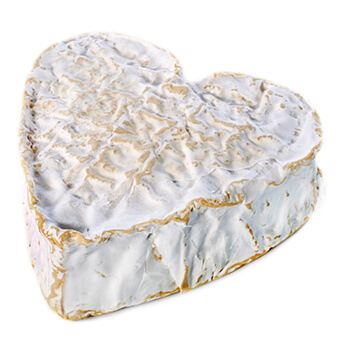 The Neufchâtel
AOP - TO TASTE WITH AN APRICOT JAM
The Neufchâtel gets its name from the village of Neufchâtel-en-Bray, situated in Normandy in northwestern France. It is made from whole milk from a cow breed from Normandy, mostly raw. It is refined/matured in cellars at least 10 days and up to several weeks to please the connoisseurs!
The consumption of Neufchâtel grew strongly in the nineteenth century and it obtained the Appellation d'Origine Contrôlée (PDO) in 1969. But its history goes back much further, since some writings of the eleventh century already mention the existence of this cheese.
As for its shape of a heart, if one believes the legend, it finds its origin with the young norman girls who offered these cheeses to the English soldiers present in Normandy during the Hundred Years War (XIVe and XVe centuries) to declare their love to them. Today the Neufchâtel is exported to all continents!
Find out more